Labels & Decals
Don't let our name fool you. We are an industrial decal and label manufacturer, and have been since 1969. Known for decades as one of the Mid-South's leading harsh environment decal producers, our clients know that we offer the highest quality in the industry.
Product Labels • Equipment Graphics • Caution and Warning Labels • Control Panel Overlays • Barcodes • 3-D Domed Decals • Premium Branding • Label Kits • OEM Graphics
---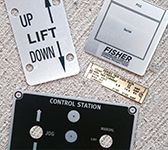 Nameplates
Made from aluminum, stainless steel, or brass, these printed metal identification plates can be customized by using either etch, fill, dye-sublimation, or screen printing methods.
Product I.D. • Control Panels • Logo Emblems • Serial Number Tags • VIN Tags • Aircraft Tags • Marine Identification
---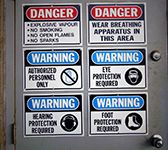 Safety Products
Custom industrial tags and signs allow you to communicate
hazards or workplace policies in an effective way.
Product Safety • Warehouse Safety • Inventory Control • Security Solutions • Facility and Site Maintenance
---
Label Kits
For our equipment manufacturers, Art Advertising can help analyze the efficiencies of combining labels and decals into a kit for each unit. Depending on your particular label requirements and assembly processes, this added service could help save you time and money.
Higher volume clients benefit more from traditional economies-of-scale in purchasing individual part numbers for common labels.